Odyssey is one of Canada's largest and most diverse metaphysical stores. We offer specialized books, gifts, classes and services designed to increase awareness and enhance personal discovery, development and growth. Our knowledgeable, professional in-store experts can provide guidance, advice and personal recommendations. We offer a forum for discovery and interaction that encourages the exploration and exchange of knowledge and ideas, all within a warm, open and inviting environment.
NOVEMBER / DECEMBER 2017 CALENDAR OF EVENTS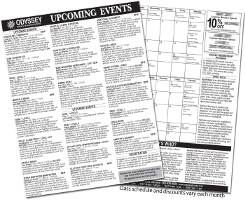 Click to view the November / December 2017 Calendar (PDF)
Click to view the September / October 2017 Calendar (PDF)
The November / December edition of the Calendar of Events is in store. 
You can register and pay for Courses and Sessions online, by phone or in person. Since the dates & times for Readings & Healings are constantly changing (as appointments are made) many customers prefer to contact the store directly to find out what is available. Once a date and time is booked we will ask you to prepay to guarantee your spot. This also entitles you to receive the lower price (listed in brackets). Appointments that have not been pre-paid may be cancelled (unless prior arrangements have been arranged).
UPCOMING CLASSES & EVENTS FOR NOVEMBER



PSYCHIC DEVELOPMENT PROGRAM – LEVEL I   Fay: Wednesday, November 15, 22, 29, Dec. 6  7-10 pm  $120 ($100) 4 Classes
Do you have a highly developed intuitive side? Do you ever have unexplained experiences? Through instruction, exercises, and meditation you will learn how to develop your psychic abilities. You will practice readings, psychometry, channeled writing, mental telepathy & connecting with a guide.
REIKI – LEVEL I   Kelley Gaspar: Saturday, November 18  9:30 am-5:30 pm  $120 ($100) Includes Manual & Certificate
Through traditional Usui Shiki Ryoho - Shoden/Level I attunements you will align & amplify your natural healing energies. Learn the history & origins of Reiki, techniques including Gassho, Reiji-Ho, Joshin Kokyuu Ho & Kenyoku (breathing, grounding, clearing fundamentals), hand placement, self-healing & etiquette. Your attunement will include the first two symbols and in class hands-on practice. THIS CLASS IS FULL but we can put your name on a waiting list for the next one.

AURA PHOTOGRAPHY  Dennis Anderson: Saturday, November 18 $40 ($35)  Pre-Register or Drop-In (Includes Aura Portrait & Printed Report)
Subtle bio-energetic variances are broadcast by the reflex points in your hand, interpreted by a computer and translated into a detailed report about your auric field.
EMPATH'S JOURNEY   Linda Lee Purvis: Monday, November 20  7-9:30 pm   $30 ($25) Includes materials
If you seem to be a sponge that picks up other peoples' energies, emotions & experiences, you will gain support & solutions for coping with the gift of heightened awareness, sensitivity & compassion. Previous participants are encouraged to further share & explore.
CHAKRA HEALING WITH CRYSTALS   Joy Buckley: Sunday, November 25  11 am-5 pm    $70 ($60)
Given their various energetic properties, the use of crystals is a highly effective way to balance you chakras. In this workshop you will learn how to check your chakras for energetic blockages & choose the appropriate crystals to clear & harmonize them. You will also practice two different methods of chakra activation – working with a crystal point/wand and using a pendulum.
SPIRITUAL AROMATICA   Linda Lee Purvis: Sunday, November 26  1-4 pm  $50 ($45) Includes materials  NEW
In this fragrant, interactive workshop, you will learn the importance of using aromatics in your personal & spiritual practice. Areas of exploration include: meditation, anointment, celebrations, chakras, grounding, connecting to source, channeling, memory recall, crystal enhancement & more. You will use pure essential oils to create several of your own blends.
CRYSTALS FOR ANXIETY & DEPRESSION   Emylee Cuthbertson: Monday, November 27  7-9:30 pm   $30 ($25)  NEW
There are specific crystals that can strengthen your state of mind. Learn how meditation skills & calming/motivating strategies combined with gemstones can be used to support you on the days you find yourself experiencing challenges with anxiety and/or depression.
UPCOMING CIRCLES
HEALING & SOUND  Laura Buckley:  Tuesday, November 14  7-8:30 pm $12 ($10)
REIKI PRACTITIONERS'  Fay:  Tuesday, November 21   7-9 pm  $12 ($10)
CHAKRA TUNEUP:  Lisa Parker:  Tuesday, November 21   7-8:30 pm  $12 ($10)
WICCA  Tina Cooke:  Tuesday, November 28  7-9 pm  $18 ($15)
SPIRITUAL DEVELOPMENT  Fay:  Tuesday, December 5  7-8:30 pm $12 ($10)
CRYSTAL MEDITATION Emylee Cuthbertson:  Monday, December 11   7-8:30 pm  $12 ($10)
CHANNELLED WRITING  Laura Buckley:  7-8:30 pm  $12 ($10)
UPCOMING READINGS
PSYCHIC (60 minutes) Dorothy Clifford:  Saturday, November 25  $80 ($70)*  (some weekdays)
AKASHIC RECORDS (45 minutes) Irma Haggith:  Saturday, November 26  $65 ($55)*
TAROT CARD (60 minutes) Vicki Warner:  Sunday, November 26  $65 ($55)*  (some weekdays)
INTUITIVE SOUL-UTIONS (60 minutes) Sacha Williamson:  Saturday, December 2  $80 ($70)*  (some weekdays)
LIFE PATH TAROT (60 minutes) Heather Hill Gibson:  Sunday, December 3  $85 ($75)*  (some weekdays)
PSYCHIC MEDIUMSHIP (60 minutes) Nicole Brake:  Saturday, December 16  $80 ($70)*
GEMSTONE (45 minutes, with pendant) Emylee Cuthbertson:  Sunday, December 10  $60 ($50)* (some weekdays)
ANGEL & LIGHT BEINGS (45 minutes)   Kim Burns: By Appointment   $50 ($45)* 
ASTROLOGY (60 minutes, Birth Chart)   Dan Mischuk: By Appointment   $80 ($70)*
UPCOMING HEALINGS
MASSAGE WITH REIKI & REFLEXOLOGY (60 minutes) Janiece Henderson:  By Appointment. Tues., Wed.  $80*
REFLEXOLOGY (60 minutes) Kelley Gaspar:  By Appointment  $60 ($50)*
REFLEXOLOGY WITH REIKI (60 minutes)  Lisa Parker: By Appointment. $60 ($50)*
REIKI SESSION (60 minutes) Kelley Gaspar:  By Appointment.  $70 ($60)*
CHAKRA EMPOWERMENT (75 minutes) Linda Lee Purvis:  Sunday, November 19  $110 ($95)*  (some weekdays)
RESTORATIVE BODY TUNING (75 minutes) Linda Lee Purvis:  Sunday, November 19  $105 ($95)*  (some weekdays)
SOUL-SHIFT DETOX TRILOGY (90 minutes) Linda Lee Purvis:  Sunday, November 19  $130 ($115)* (some weekdays)
MEMBER'S SPECIAL FOR NOVEMBER  - FREE GIFT



If you are not a Member and would like to take advantage of our Monthly specials, $5.00 bonus vouchers & free gifts, sign up today. An annual membership is only $10.

SPIRIT ROCK
Spirit Rock is an affordable sanctuary created for those who need of a quiet place to relax, renew & recharge. Retreats takes place in a spacious log home located on 200 acres of forested land, 2 hours north/east of Odyssey (near Kaladar). Space can be rented individually, with a friend/partner or as a small group. The land heals & nurtures as you commune with nature, meditate, draw/paint, write, study, read & connect. Fees start at just $100 per night and discounts are available for longer stays.
Spiritual Teachers & Healers are invited to book space for their programs. You can rent the space and execute your own program or plan an event with the assistance of our Co-ordinators. Their years of experience as workshop facilitators can support you in planning an agenda, scheduling, promoting, taking bookings, food preparation, and more. While you focus on teaching, they can focus on the logistics.
MUSIC FOR A CAUSE
We have put together a selection of retired CD demos and discontinued music inventory. For every $5.00 donated (100% of which will be donated to the Charities we support) you will be able to choose a free CD (or 2 cassettes). Check the basket each time you are in to see if there is something for you.
FACEBOOK
On occasion the name of one of our Odyssey Books Facebook fans is randomly chosen to receive a special treat (and absolutely no purchase is necessary). If you are selected, your name will be posted on the site and you can pick up your gift at the store. Click here to visit our Facebook page.
HEALING BLESSINGS - WE ARE ONE!
Let us join together collectively and focus our healing energies towards the areas of our wondrous planet that have been affected by disaster or trauma.
Please send your love along with white, gold and platinum light, and the healing energies with which you work to support those in need. If you use the violet flame to help transcend non-beneficial energies or are skilled at grid-work to help repair disconnected energy lines, your assistance is also required.
Let us also remember those in need of medical attention and healing, from the little children to the aged, from the citizens to the volunteer workers, from the pets and wild animals to the devastated landscape and sacred architecture of the area.
Let us pray that the medical experts and volunteer helpers are able to gain access to all areas in need; that supplies of water, food and clothing can reach all individuals; that the monies raised worldwide will be used efficiently & effectively to support healthy, livable communities; and that the people affected are blessed with hope for the future.
And may we pray for the thousands of dear souls who suffered as well as to those who have passed to another realm.
Let us pray that the countries of the world unify together to assist with whatever means they have in aiding areas of the planet that have been devastated by natural disasters & mis-guided human actions. And that in this unification, all citizens will realize that what is most important is to move toward a brighter future with more love, cooperation, acceptance & respect between nations and peoples, including the unseen and those from multi-dimensional existences.
ODYSSEY WINS COVR AWARD FOR BEST WEBSITE
COVR - Coalition of Visionary Retailers is a professional trade association that presents Awards for the industry's best books, music and sidelines. In 2010, Odyssey was presented with the award for BEST WEBSITE. This was the first time a retail store had ever been recognized with this prestigious honour (in the past it had always been given to vendors or large publishers like Llewellyn). In addition, it was also the first time a Canadian business had been chosen.
The Award would not have been possible without the skill, talent and dedication of Leila Vey of New World Media Artist who redesigned our website in 2010 by adding new content, product categories, photos and a shopping cart. Lawren Purvis & Emylee Cuthbertson have continued to support the site with product additions and updates. At the time our beautiful, tabloid-size Calendar of Events designed by Linda Lee Purvis was also featured on the site.
Thanks to all of you for weaving your energetic thread into the tapestry of Odyssey and for playing an integral part in our community.
EAST OF THE CITY MAGAZINE ARTICLE ON ODYSSEY
The following is a wonderful article that was written by East of the City Magazine columnist, Linda Lee Purvis.
"An inviting, celestial sun shines above the entrance to Odyssey Books & Resource Centre in the Courtyard in Pickering Village. It radiates with affirming warmth, welcoming patrons in search of illumination for their path to self-discovery. Inside its doors is a galaxy of specialty books and tools to guide spiritual travelers along their journey."
FREE INCENSE WITH YOUR PURCHASE
Click here to download a coupon you can use for free incense with your next purchase.
SUBSCRIBE TO OUR NEWSLETTER