Odyssey is one of Canada's largest and most diverse metaphysical stores. We offer specialized books, gifts, classes and services designed to increase awareness and enhance personal discovery, development and growth. Our knowledgeable, professional in-store experts can provide guidance, advice and personal recommendations. We offer a forum for discovery and interaction that encourages the exploration and exchange of knowledge and ideas, all within a warm, open and inviting environment.
FEBRUARY / MARCH / APRIL CALENDAR OF EVENTS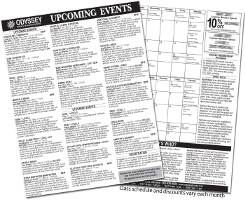 Click to view the January / February 2018 Calendar (PDF)
Click to view the January / February 2018 Readers and Healers (PDF)
Click to view the March / April 2018 Calender (PDF)
Click to view the March / April 2018 Readers and Healers (PDF)
The printed copy of our March / April 2018 Calendar of Events is in store. You can register and pay for Courses and Sessions by phone or in person. Since the dates & times for Readings & Healings are constantly changing (as appointments are made) many customers prefer to contact the store directly to find out what is available. Once a date and time is booked we will ask you to prepay to guarantee your spot. This also entitles you to receive the lower price (listed in brackets). Appointments that have not been pre-paid may be cancelled (unless prior arrangements have been arranged).
CLASSES & EVENTS FOR FEBRUARY
CRYSTALS FOR PERSONAL POWER  Joy Buckley: Sunday, February 18  1-4 pm  $35 ($30) NEW

Crystals can be used to build confidence and increase focus/determination to support the manifestation of your dreams & goals. You will learn how to use them for self-empowerment and create a crystal grid to release out-dated energy patterns. They can also enhance your meditation practice & spiritual journey.
VIBRATIONS OF LOVE  Linda Lee Purvis: Sunday, February 25  1-4 pm  $35 ($30)  NEW
Learn how to open your heart to Love. Discussion, meditation & visualization (which can be enhanced with Quantum Biofeedback frequencies) will explore obstacles with self-Love, giving or receiving Love for/from your partner, family, friends and challenges with attracting, sabotaging or trusting Love.
CIRCLES
REIKI PRACTITIONERS'  Fay: Tuesday, February 20   7-9 pm  $12 ($10)
Reiki practitioners gather to share knowledge, ideas, techniques and group healings.
CRYSTAL MEDITATION Emylee Cuthbertson: Monday, February 24  7-8:30 pm  $12 ($10) 
Do you have a passion for crystals? Are you looking to meet like-minded people? Join us to experience the amplified intention & energy of the group while focusing on specific crystals.
SHAMANIC HEALING CIRCLE   Lisa Parker & Alx P: Monday, February 26   7-8:30 pm  $22 ($18)
The harmonious sounds of didjeridoo, singing bowls, drum s & rattles will transport you to a state of deep relaxation and inner awareness. The group will be then be participate in guided techniques to balance body, mind & spirit. Wear loose fitting clothes. Bring a mat
WICCA  Tina Cooke: Tuesday, February 27  7-9 pm  $18 ($15)
The group will honour Wiccan traditions, Wheel of the Year (the eight High Holidays) and different Goddess-centered pantheons.
SPIRITUAL DEVELOPMENT  Fay: Tuesday, March 6  7-8:30 pm $12 ($10)
The group will discuss topics of interest, participate in exercises to enhance intuition/psychic abilities and experience the benefits of guided meditations.
CHAKRA TUNEUP:  Lisa Parker: Tuesday, March 13   7-8:30 pm  $12 ($10)

The group will focus on a different chakra each month and practice specific exercises to clear, balance & harmonize. Dress comfortably & bring a mat.
CHANNELLED WRITING  Laura Buckley: Tuesday, March 13  7-8:30 pm  $12 ($10)
You will practice giving and receiving verbal & written messages from Spirit. Bring paper & a pen.
HEALING & SOUND  Laura Buckley: Tuesday, April 10  7-8:30 pm $12 ($10)

The group will transmit healing energies to each other as well as to those at a distance and practice sound healing with singing bowls.
READINGS
TAROT CARD (60 minutes) Vicki Warner:  Sunday, February 25  $65 ($55)*  (some weekdays)
Is there is a pressing issue in your life right now? Do you require clarification for a current situation? Vicki will use the cards to reveal insights on the potential options that are available to consider.
INTUITIVE SOUL-UTIONS (60 minutes) Sacha Williamson:  Saturday, March 3  $80 ($70)*  (some weekdays)
Unseen energies can be accessed to provide direction on your life path. The channeled messages Sacha receives will help you gain clarity, insight, and soulutions for your personal situations. Communication may come from Angels, Goddesses, Spirit Guides, Animal Totems, and loved ones.
PSYCHIC (60 minutes) Dorothy Clifford:  Saturday, March 10  $80 ($70)*  (some weekdays)
Using her natural abilities as a psychic & medium, Dorothy connects with your personal Guides, loved ones & the Archangels to provide you with guidance, comfort and insight.
AKASHIC RECORDS (45 minutes) Irma Haggith:  Saturday, March 17 $65 ($55)* 
The Akashic Records are said to be the "blueprint" of your "lives". They can provide guidance about who you are, why you are here and what you are meant to be doing to fulfill your life purpose. They also reveal issues, blocks, addictions or behaviours that may be limiting your full experience on Earth.
PSYCHIC MEDIUMSHIP (60 minutes) Nicole Brake:  Saturday, March 24  $80 ($70)*
Nicole's abilities allow her to bring through messages from the spirit realm that will help you gain a better understanding of the blessings that lie hidden in your life's challenges while empowering you to reach your highest potential.
GEMSTONE (45 minutes, with pendant) Emylee Cuthbertson:  Sunday, April 15  $60 ($50)* (some weekdays)
Using the messages received from reading a combination of gemstones & crystal cards, Emylee will provide you with intuitive guidance & advice for your current life situation.
LIFE PATH TAROT (60 minutes) Heather Hill Gibson: Sunday, April 22  $85 ($75)*  (some weekdays)
Working with your Guides & Ancestors, Heather will focus on past (issues to work out in this life), present (what is happening now, including an understanding of your personality, shadows, talents, & purpose) and future (cycles of lessons & opportunities).
ANGEL & LIGHT BEINGS (45 minutes)   Kim Burns: By Appointment   $50 ($45)* 
Drawing from a variety of different decks, Kim will connect with the vibration of Angels, Archangels, Ascended Masters & Light Beings to provide you with direction, guidance & answers to your questions.
ASTROLOGY (60 minutes, Birth Chart)   Dan Mischuk: By Appointment   $80 ($70)*
What does the geometry of the sky reveal about you? Make an appointment to have Dan create a custom astrology chart that will include a full interpretation and predictive forecast. By Appointment.
HEALINGS
CHAKRA EMPOWERMENT (75 minutes) Linda Lee Purvis:  By Appointment  $110 ($95)* 

Discovering any misalignments & blockages in your chakras can reveal much about your emotional, mental, physical & spiritual condition. Your chakras will be recalibrated through biofeedback and issues in your auric field will be cleared. Includes  recommendations for support & follow up.
CRYSTAL HEALING WITH REIKI (60 minutes) Joy Buckley:  By Appointment. $70 ($60)*
Joy combines the universal energy of Reiki with the crystalline energy of gemstones to relax & balance your physical, emotional & mental bodies while clearing blockages from your chakra centres.
MASSAGE WITH REIKI & REFLEXOLOGY (60 minutes) Janiece Henderson:  By Appointment. Tues., Wed.  $80*
After enjoying a Reiki infused, stress-relieving back/neck/shoulder massage you will receive a relaxing Reflexology foot treatment. This will help to restore health & vitality by releasing blockages. Janiece is a RMT so receipts can be issued for your health plan.
REFLEXOLOGY (60 minutes) Kelley Gaspar:  By Appointment  $60 ($50)*
Enjoy the re-vitalizing benefits of this ancient healing practice. Reduce stress and promote systemic healing and proper circulation. Kelley's unique touch combined with subtle energy techniques allows you to relax and return to a holistic way of being.
REFLEXOLOGY WITH REIKI (60 minutes)  Lisa Parker: By Appointment. $60 ($50)*
Reflexology is a therapy that focuses on the reflex points of the feet to release toxins & rebalance energy in the whole body. It is a deeply relaxing treatment that promotes better health by improving circulation, strengthening the body's immune system and reducing stress & tension so the body can heal itself. Reiki, gemstones & essential oils are used too.
REIKI SESSION (60 minutes) Kelley Gaspar:  By Appointment.  $70 ($60)*
The combination of Reiki's subtle, effective life force energy and Kelley's unique touch will assist you on all levels - physically, mentally & spiritually. You will feel tension & stress float away as you create a positive state of health & wellbeing.
RESTORATIVE BODY TUNING (75 minutes) Linda Lee Purvis:  By Appointment  $105 ($95)* 

The resonant sound created with tuning forks is very effective in detecting, releasing & restoring the body's energy field. These frequencies can be combined with biofeedback, floral essences & coaching to deactivate triggers associated with archived cellular memories. The experience is relaxing & empowering, giving way to inner peace and renewed vitality
SOUL-SHIFT DETOX TRILOGY (90 minutes) Linda Lee Purvis:  By Appointment  $130 ($115)*

This synergetic healing package of gentle but powerful techniques helps to discharge stagnant energies. Begining with a relaxing Ionic Footbath to draw embedded toxins out of the body, followed by a Biofeedback Re-Alignment to help identify & release physical, emotional & spiritual blockages. The trilogy is completed with a Customized Essential Oil Blend.
IN LOVING MEMORY - DR. GEORGE BLAKE 1922 -2018

George served in the Royal Air Force during World War II, acquired his PhD in clinical psychology from Edinburgh University and was ordained as a Theravadan Buddhist Monk in Thailand. In addition to founding the Pinewood Centre in Oshawa he entertained us with his fascinating stories. enlightened us with his wisdom & insight and "moved" us with the beat of his djembe drums. George taught his popular Buddhist Meditation course at Odyssey for many years. We share our condolences with his family and friends. He touched the hearts of many and will be missed.

MEMBER'S SPECIAL FOR FEBRUARY - 10% OFF MUSIC

If you are not a Member and would like to take advantage of our Monthly specials, $5.00 bonus vouchers & free gifts, sign up today. An annual membership is only $10. And if you didn't pick up your Free Gift for November or Free Book for December, please ask for them the next time you are in.
SPIRIT ROCK
Spirit Rock is an affordable sanctuary created for those who need of a quiet place to relax, renew & recharge. Retreats takes place in a spacious log home located on 200 acres of forested land, 2 hours north/east of Odyssey (near Kaladar, ON). Space can be rented individually, with a friend/partner or as a small group. The land heals & nurtures as you commune with nature, meditate, draw/paint, write, study, read & connect. Fees start at just $100 per night and discounts are available for longer stays.
Spiritual Teachers & Healers are invited to book space for their programs. You can rent the space and execute your own program or plan an event with the assistance of our Co-Ordinators. Their years of experience as workshop facilitators can support you in planning an agenda, scheduling, promoting, taking bookings, food preparation, and more. While you focus on teaching, they can focus on the logistics.
MUSIC FOR A CAUSE
We have put together a selection of retired CD demos and discontinued music inventory. For every $5.00 donated (100% of which will be donated to the Charities we support) you will be able to choose a free CD (or 2 cassettes). Check the basket each time you are in to see if there is something for you.
FACEBOOK
On occasion the name of one of our Odyssey Books Facebook fans is randomly chosen to receive a special treat (and absolutely no purchase is necessary). If you are selected, your name will be posted on the site and you can pick up your gift at the store. Click here to visit our Facebook page.
HEALING BLESSINGS - WE ARE ONE!
Let us join together collectively and focus our healing energies towards the areas of our wondrous planet that have been affected by disaster or trauma.
Please send your love along with white, gold and platinum light, and the healing energies with which you work to support those in need. If you use the violet flame to help transcend non-beneficial energies or are skilled at grid-work to help repair disconnected energy lines, your assistance is also required.
Let us also remember those in need of medical attention and healing, from the little children to the aged, from the citizens to the volunteer workers, from the pets and wild animals to the devastated landscape and sacred architecture of the area.
Let us pray that the medical experts and volunteer helpers are able to gain access to all areas in need; that supplies of water, food and clothing can reach all individuals; that the monies raised worldwide will be used efficiently & effectively to support healthy, livable communities; and that the people affected are blessed with hope for the future.
And may we pray for the thousands of dear souls who suffered as well as to those who have passed to another realm.
Let us pray that the countries of the world unify together to assist with whatever means they have in aiding areas of the planet that have been devastated by natural disasters & mis-guided human actions. And that in this unification, all citizens will realize that what is most important is to move toward a brighter future with more love, cooperation, acceptance & respect between nations and peoples, including the unseen and those from multi-dimensional existences.
ODYSSEY WINS COVR AWARD FOR BEST WEBSITE
COVR - Coalition of Visionary Retailers is a professional trade association that presents Awards for the industry's best books, music and sidelines. In 2010, Odyssey was presented with the award for BEST WEBSITE. This was the first time a retail store had ever been recognized with this prestigious honour (in the past it had always been given to vendors or large publishers like Llewellyn). In addition, it was also the first time a Canadian business had been chosen.
The Award would not have been possible without the skill, talent and dedication of Leila Vey of New World Media Artist who redesigned our website in 2010 by adding new content, product categories, photos and a shopping cart. Lawren Purvis & Emylee Cuthbertson have continued to support the site with product additions and updates. At the time our beautiful, tabloid-size Calendar of Events designed by Linda Lee Purvis was also featured on the site.
Thanks to all of you for weaving your energetic thread into the tapestry of Odyssey and for playing an integral part in our community.
EAST OF THE CITY MAGAZINE ARTICLE ON ODYSSEY
The following is a wonderful article that was written by East of the City Magazine columnist, Linda Lee Purvis.
"An inviting, celestial sun shines above the entrance to Odyssey Books & Resource Centre in the Courtyard in Pickering Village. It radiates with affirming warmth, welcoming patrons in search of illumination for their path to self-discovery. Inside its doors is a galaxy of specialty books and tools to guide spiritual travelers along their journey."
FREE INCENSE WITH YOUR PURCHASE
Click here to download a coupon you can use for free incense with your next purchase.
SUBSCRIBE TO OUR NEWSLETTER